Tips to Align Your Press Releases to Your Sales and Marketing Funnel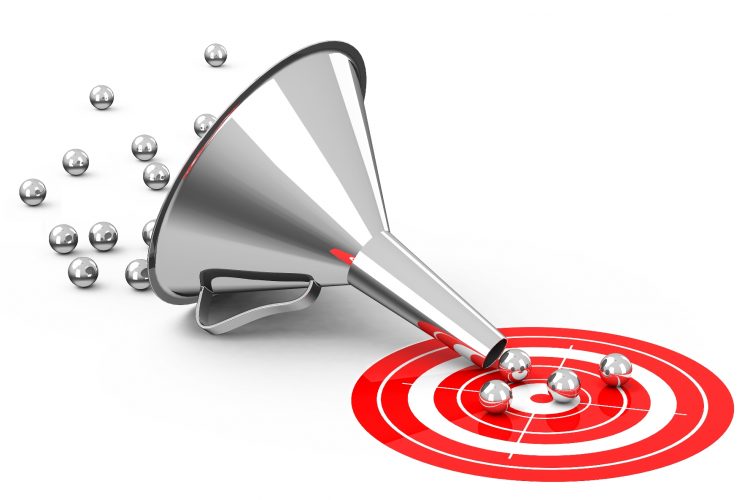 Most businesses operate with some type of a sales funnel. The sales funnel is a term that's used to define the process that prospects may go through once they become aware of your business. There are essentially three stages to a sales funnel. Each stage provides you with an opportunity to pull prospects further into your business and to sell more products or services. When content and marketing initiatives are aligned with the sales funnel, the results are notably stronger.
Stage One of the Sales Funnel – Lead Generation
At the very top of your sales funnel are all of the potential prospects out there. These are the people who may have an interest in your products or services. Pulling them into the sales funnel is often a direct result of marketing. They have to become aware of your business before they take the next steps.
Awareness is often created with content marketing tactics like email marketing, social media[1] marketing and press release marketing. Press releases can be used to draw attention to the business by highlighting announcements, events, and big company news. Hold a contest and use a press release to announce it. Host an event, online or off, and use a press release to announce it. Social media[2] press releases and press release distribution services are key here. They help expand your reach and create awareness.
Stage Two of the Sales Funnel – Lead Conversion
Once you've pulled a prospect to your site and into your funnel, the next step is to turn them into a customer. Buying behavior generally requires a few steps. The prospect has to learn to trust you and consider you a credible authority[3]. They also usually need to like your brand before they'll buy from you.
Additionally, the timing needs to be perfect. You want to be in front of your prospect when they need your products or services. This requires frequent interactions including email messages, social media touches, and press releases. In fact, a press release is a fantastic tool to help build that credibility and trust.
Share a case study from a client who has achieved success with your products or services and use a press release to announce it. Use a press release to announce new results or information in your industry. And reach out to your prospects by using press releases as part of your content marketing and announce new products, services, or promotions.
Stage Three – Upsells
The third stage of the funnel is where people generally move down further into the process by buying more expensive products or services or they move out of it. They no longer need your offerings. Press releases still play an important role here. They can be used to announce products and services and to further engage your customers by showing them how they can receive more value through your company. Press releases can announce new white papers, partnerships, and special offers.
The bottom line is that when your content marketing is aligned with your sales funnel, you achieve better results. Press releases are an important part of a comprehensive content marketing campaign.
Source URL: Read More
The public content above was dynamically discovered – by graded relevancy to this site's keyword domain name. Such discovery was by systematic attempts to filter for "Creative Commons" re-use licensing and/or by Press Release distributions. "Source URL" states the content's owner and/or publisher. When possible, this site references the content above to generate its value-add, the dynamic sentimental analysis below, which allows us to research global sentiments across a multitude of topics related to this site's specific keyword domain name. Additionally, when possible, this site references the content above to provide on-demand (multilingual) translations and/or to power its "Read Article to Me" feature, which reads the content aloud to visitors. Where applicable, this site also auto-generates a "References" section, which appends the content above by listing all mentioned links. Views expressed in the content above are solely those of the author(s). We do not endorse, offer to sell, promote, recommend, or, otherwise, make any statement about the content above. We reference the content above for your "reading" entertainment purposes only. Review "DMCA & Terms", at the bottom of this site, for terms of your access and use as well as for applicable DMCA take-down request.
Acquire this Domain
You can acquire this site's domain name! We have nurtured its online marketing value by systematically curating this site by the domain's relevant keywords. Explore our content network – you can advertise on each or rent vs. buy the domain. Buy@TLDtraders.com | Skype: TLDtraders | +1 (475) BUY-NAME (289 – 6263). Thousands search by this site's exact keyword domain name! Most are sent here because search engines often love the keyword. This domain can be your 24/7 lead generator! If you own it, you could capture a large amount of online traffic for your niche. Stop wasting money on ads. Instead, buy this domain to gain a long-term marketing asset. If you can't afford to buy then you can rent the domain.
About Us
We are Internet Investors, Developers, and Franchisers – operating a content network of several thousand sites while federating 100+ eCommerce and SaaS startups. With our proprietary "inverted incubation" model, we leverage a portfolio of $100M in valued domains to impact online trends, traffic, and transactions. We use robotic process automation, machine learning, and other proprietary approaches to power our content network. Contact us to learn how we can help you with your online marketing and/or site maintenance.